Row Wrapper 2
La Conner, Tillinghast Residence B #402
Capacity
2 Bedrooms
1 Bath
Sleeps 4
About
As part of the original 1800's Tillinghast property in La Conner, located adjacent to the popular Seeds Bistro and an easy walk to downtown La Conner, this just-completed upstairs, Two-bedroom 1-bath luxury apartment is now being offered for vacation rental.
The Highlights:
• This apartment is brand new inside, including all furnishings
• Luxury Sectional Sofa in Living Room.
• Two luxury bedrooms featuring King beds with extraordinary Simmons Beautyrest "Heavenly" bed mattresses, as seen in the highest-end national
luxury hotels
• High-end kitchen includes all stainless appliances including glass top stove with large self-cleaning oven.
• French-door stainless refrigerator.
• Master Bathroom includes tile floor, soaking tub/shower combination, single vanity sink and quartz countertop.
• Luxury carpet throughout, including living room, dining area, halls and two King bedrooms.
• Art work throughout including original oils, historic pictures of La Conner and other northwest scenes.
• 9 foot ceilings throughout with recessed spot lighting in addition to spot track lighting in kitchen and over dining area table.
• 55" Ultra HD television with streaming video ability including HULU account for normal broadcast local channels and so much more!
• All linens and towels are of luxury level material.
• Bedrooms have shades for privacy and blackout curtains.
• Quiet central forced air heat and air conditioning.
But, the real fun will include a walk to La Conner's iconic downtown.
Please note that this home is pet friendly but certain breeds are excluded. Please inquire before booking as to breeds and associated pet fees.
Features
Amenities
WIFI internet
Central Air Conditioning
Amazon Prime Video
Full Stainless Kitchen
Stream Netflix and Hulu
Washer & Dryer
Town or Village
Rates and Fees
2 Night Minimum Peak
2 Night Minimum Quiet
Dog Rent $35 Night
$50 Checkout Cleaning
Notes
Short Walk to Shopping, Dining
Walk to Downtown La Conner
In Tillinghast Seed Complex
Adjacent to Seeds Bistro
Pets Allowed
No Smoking Allowed
Photos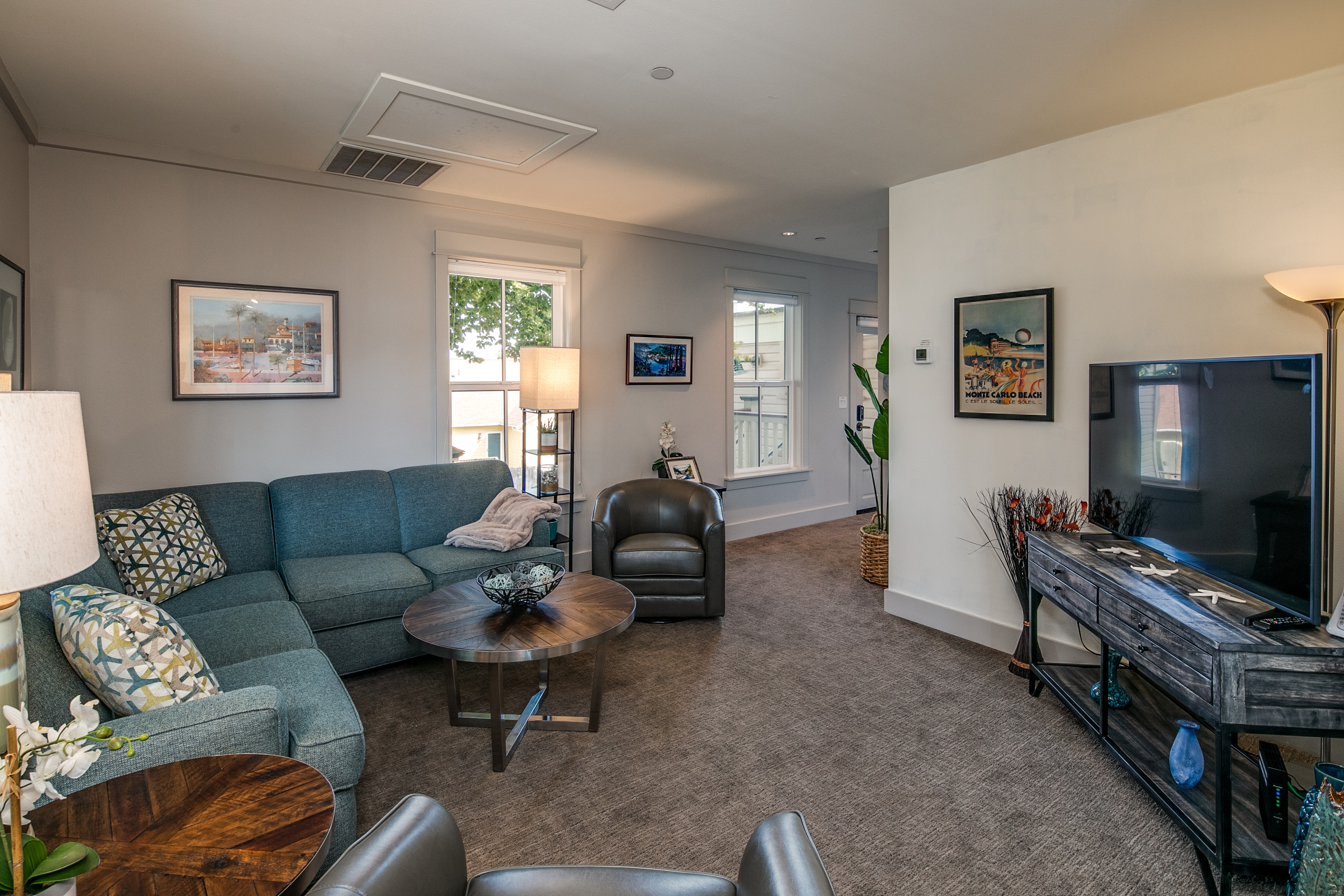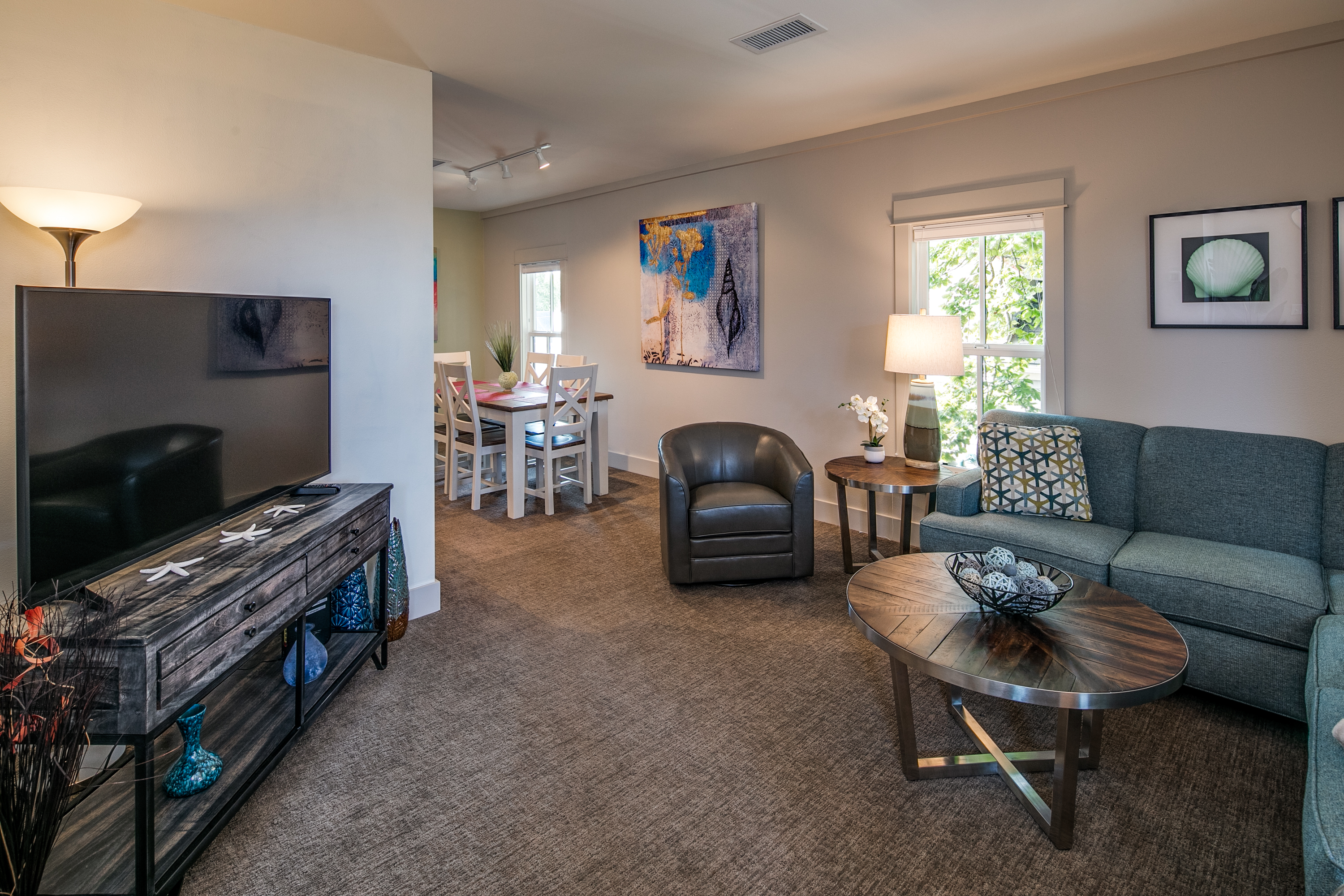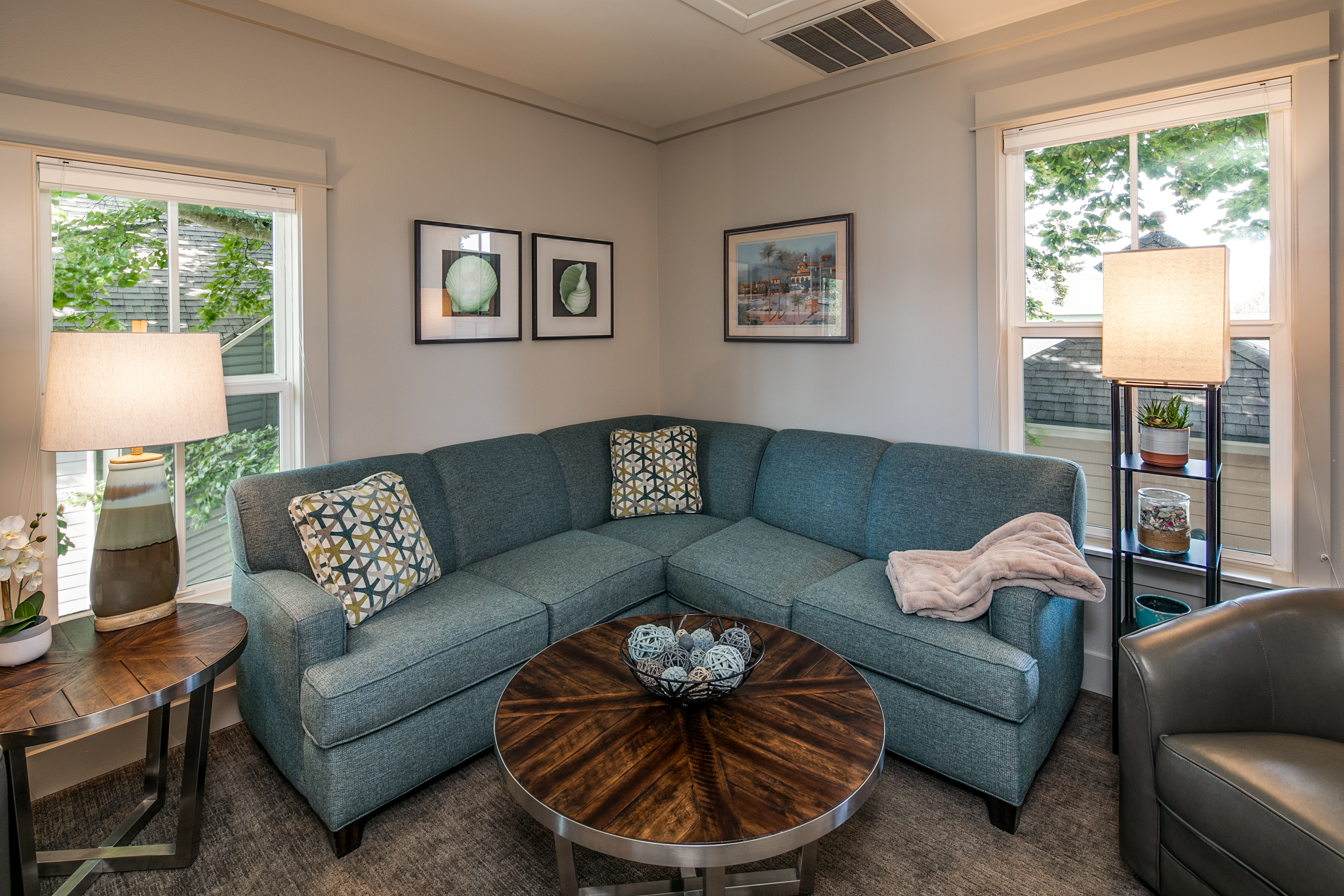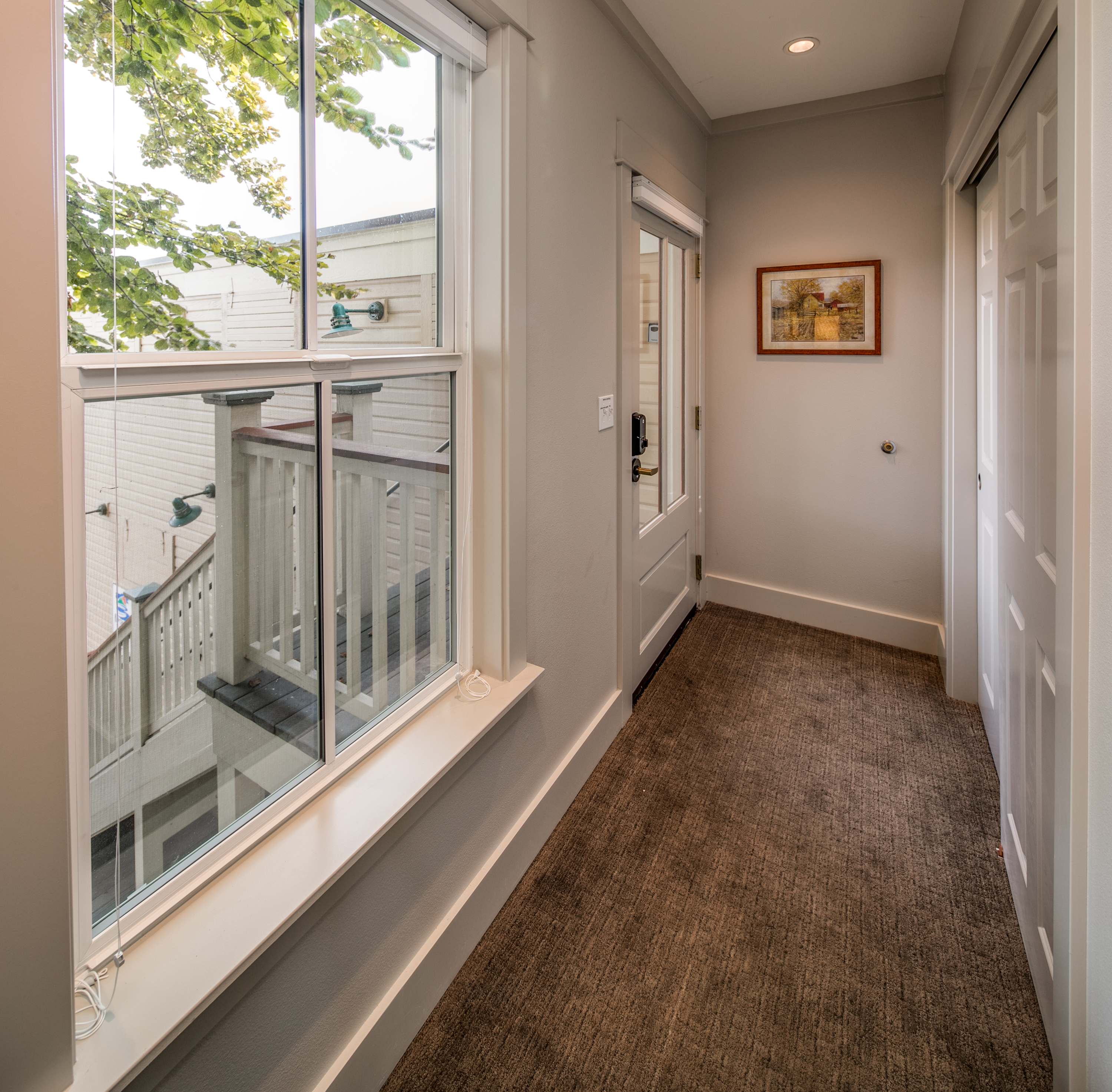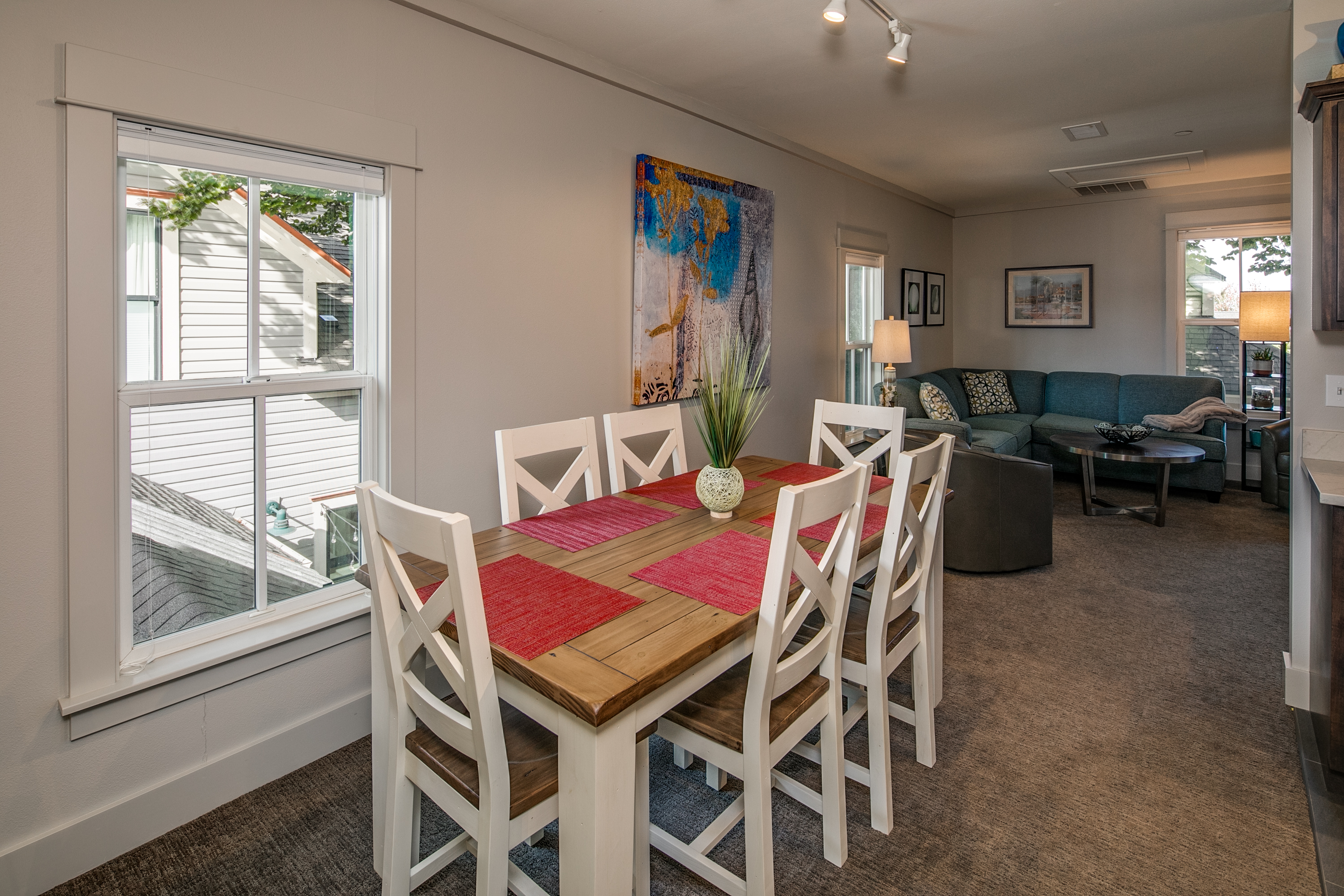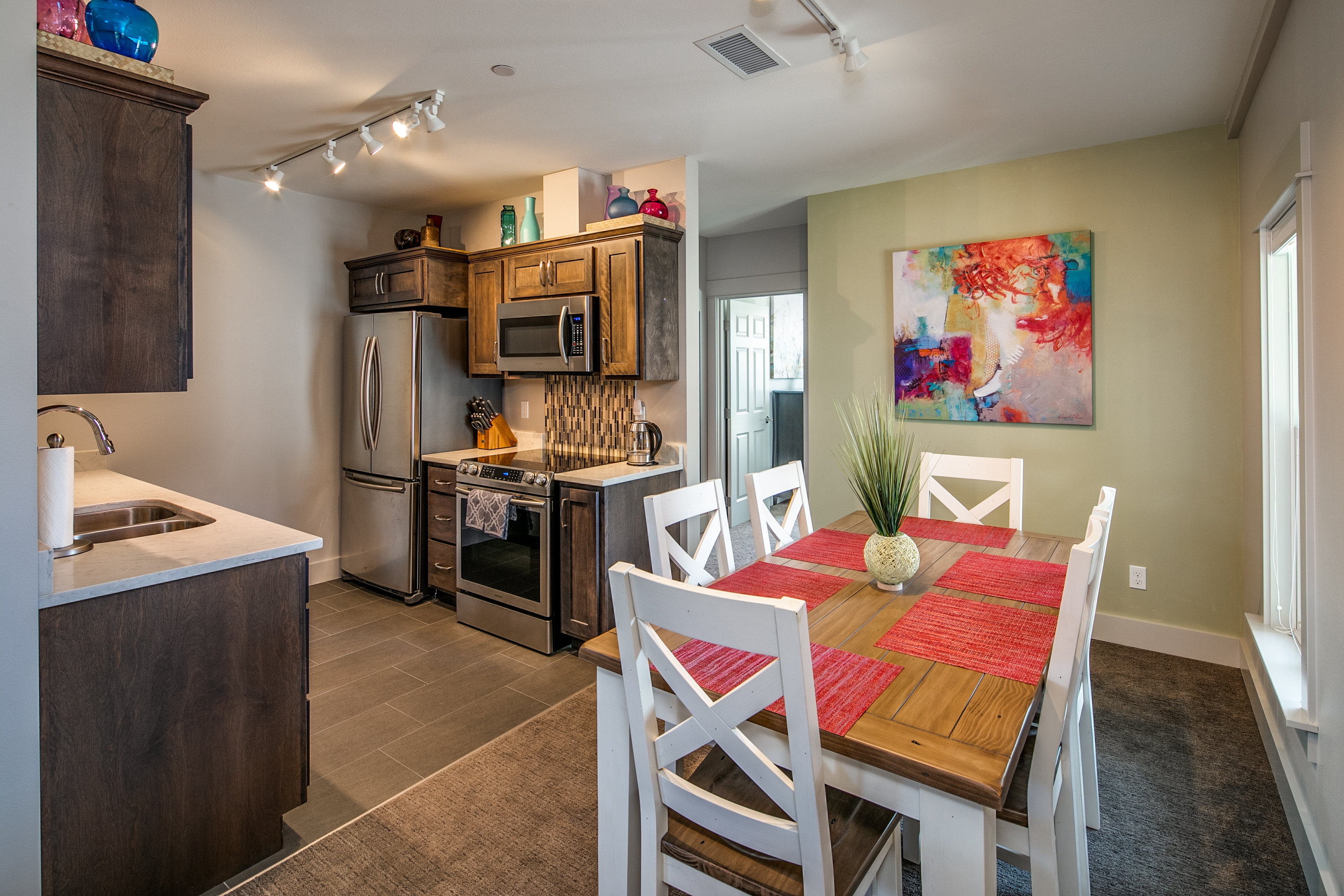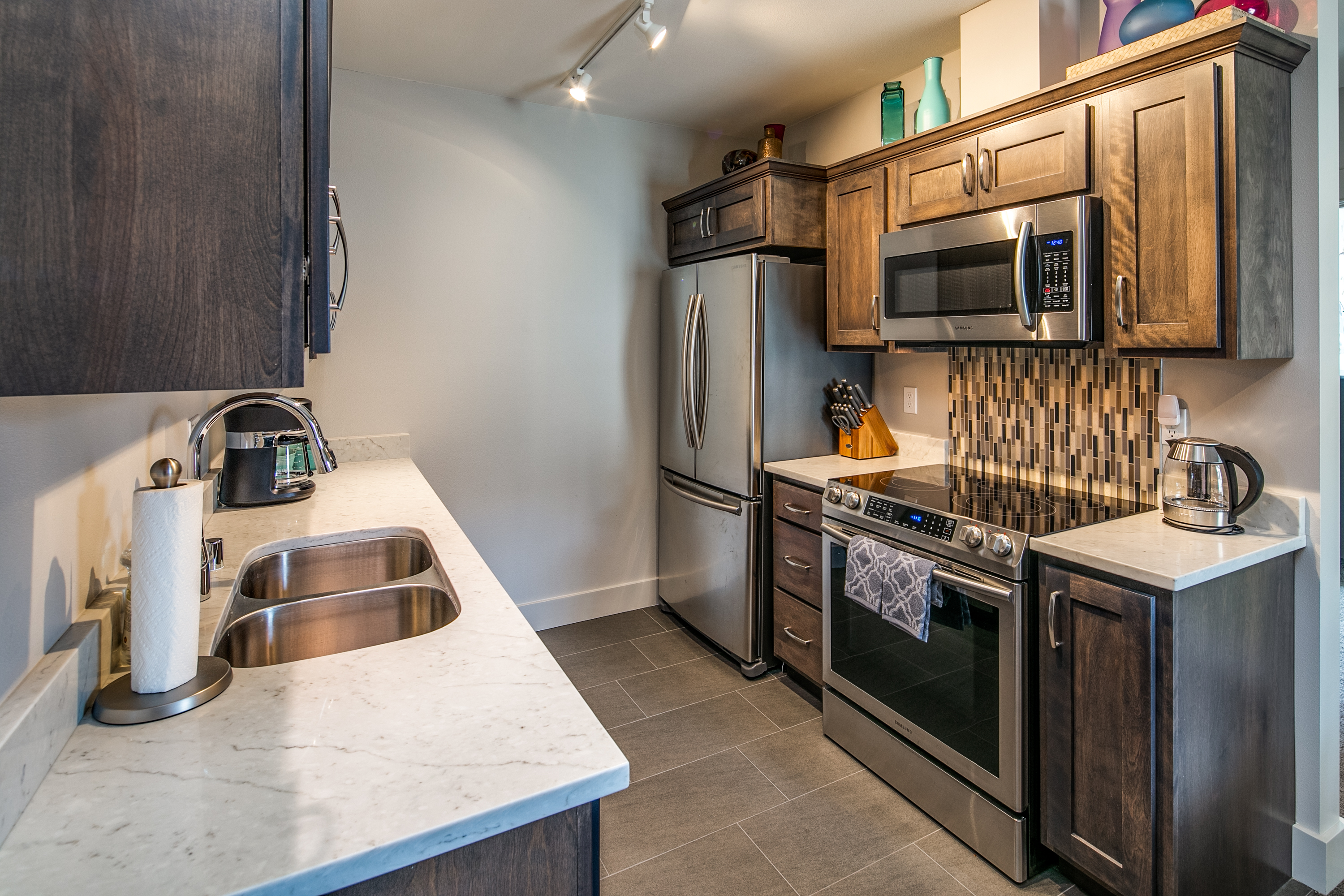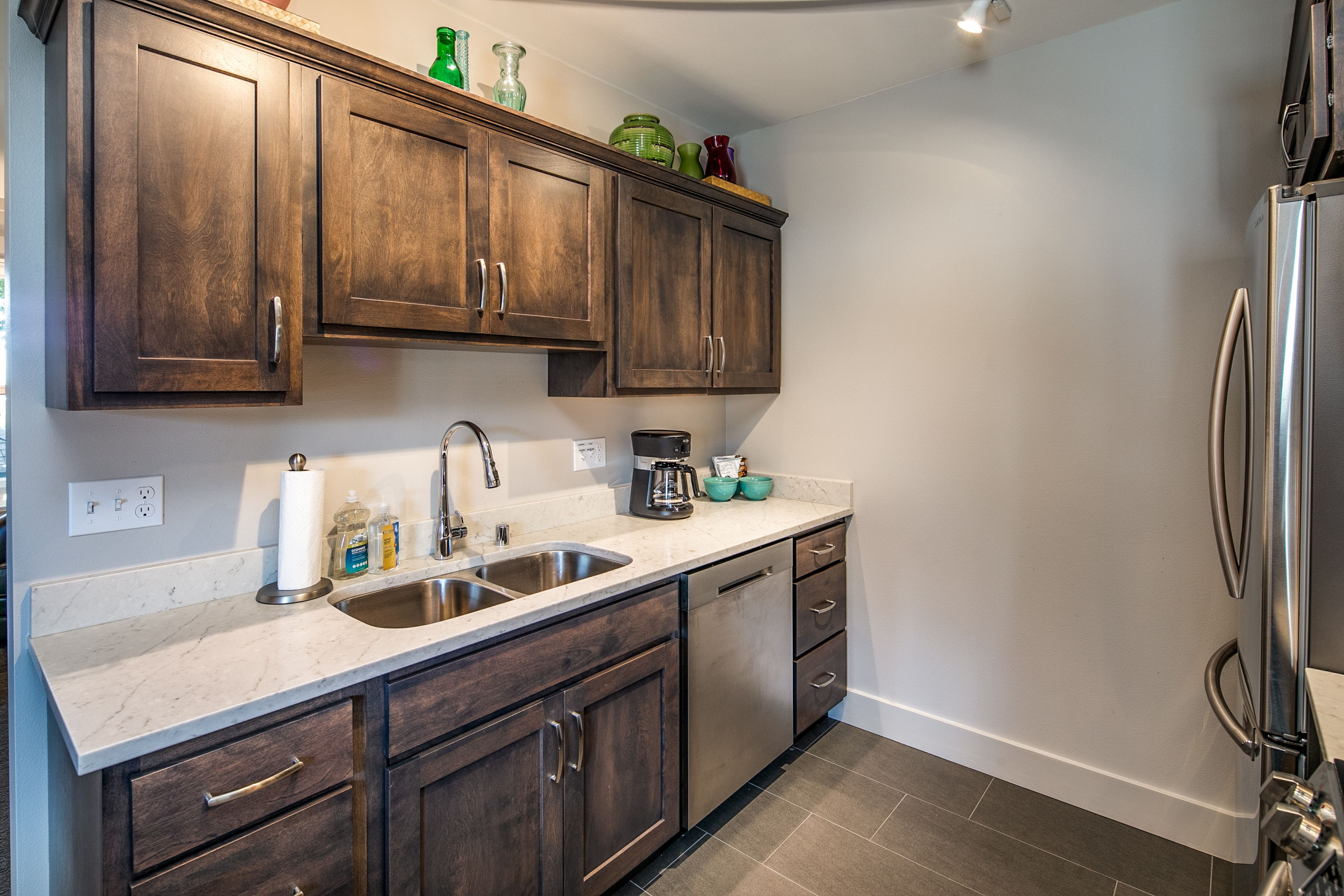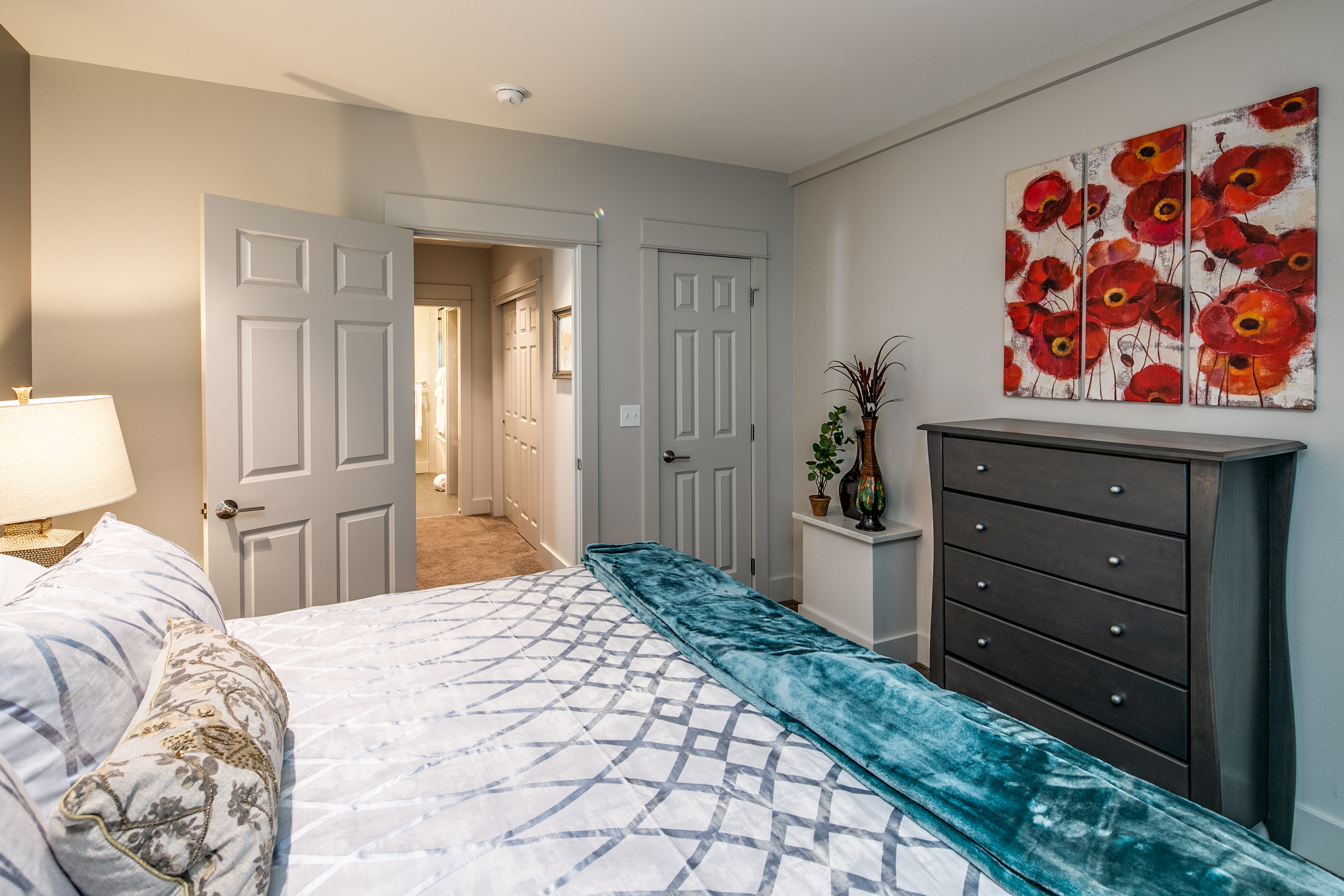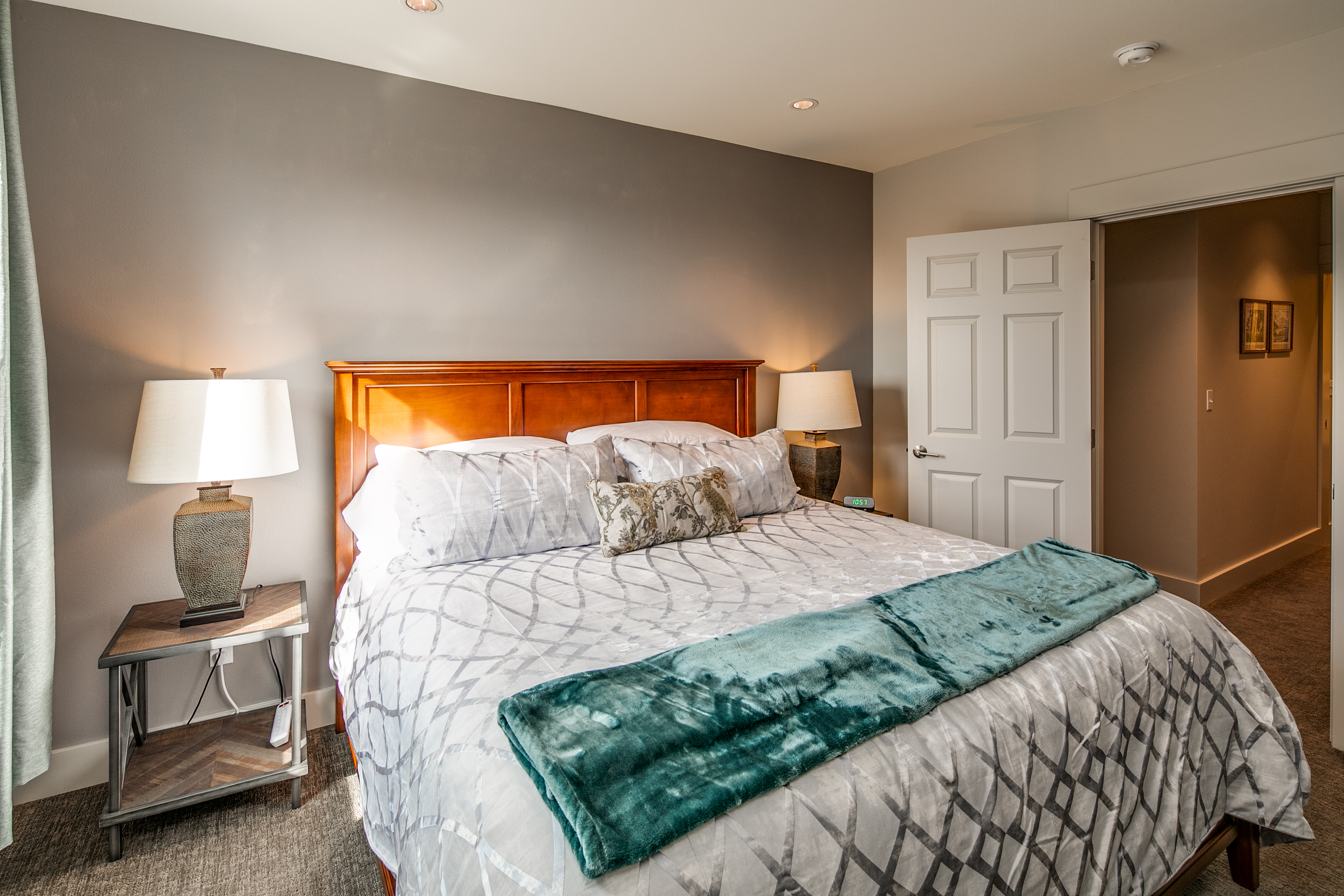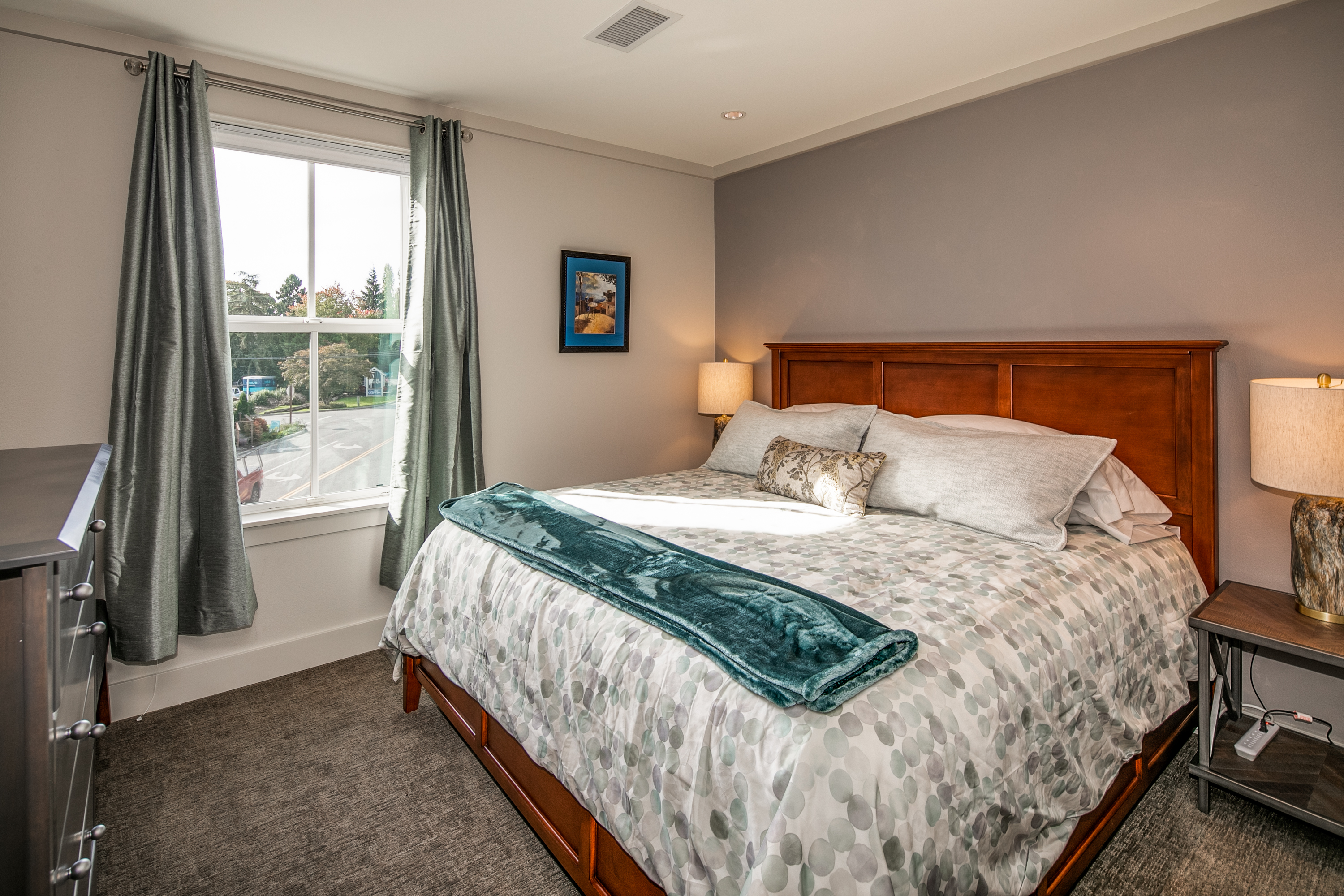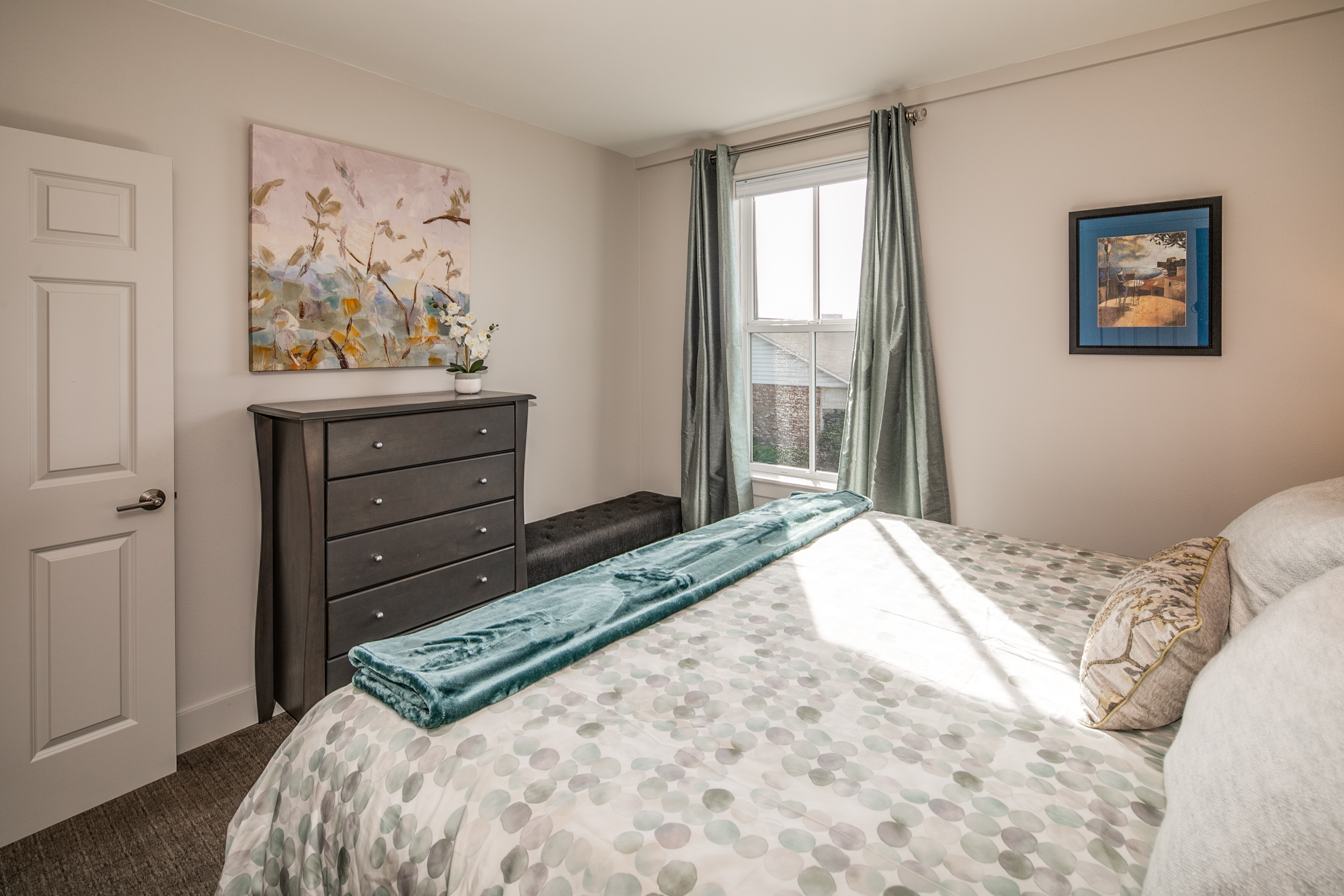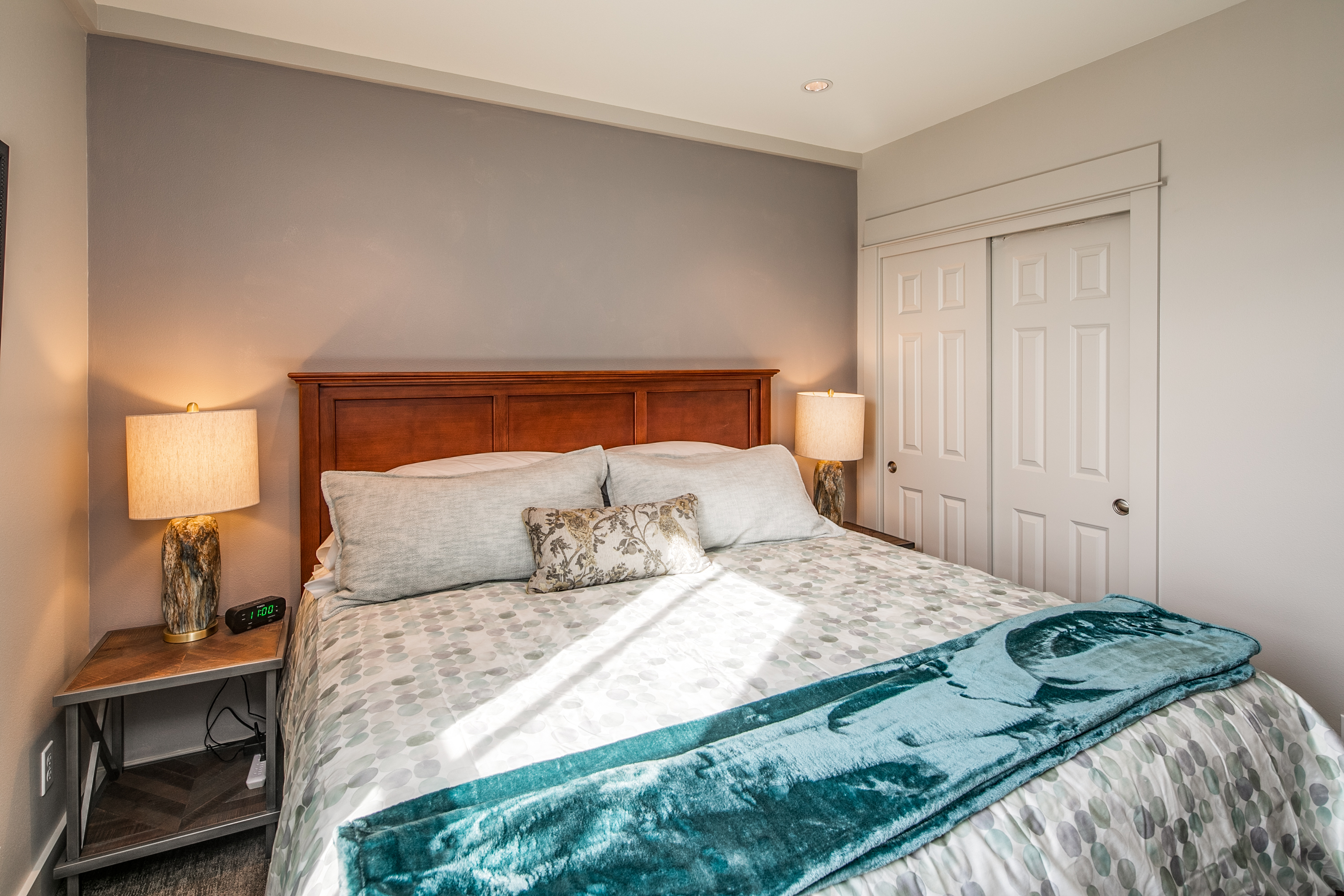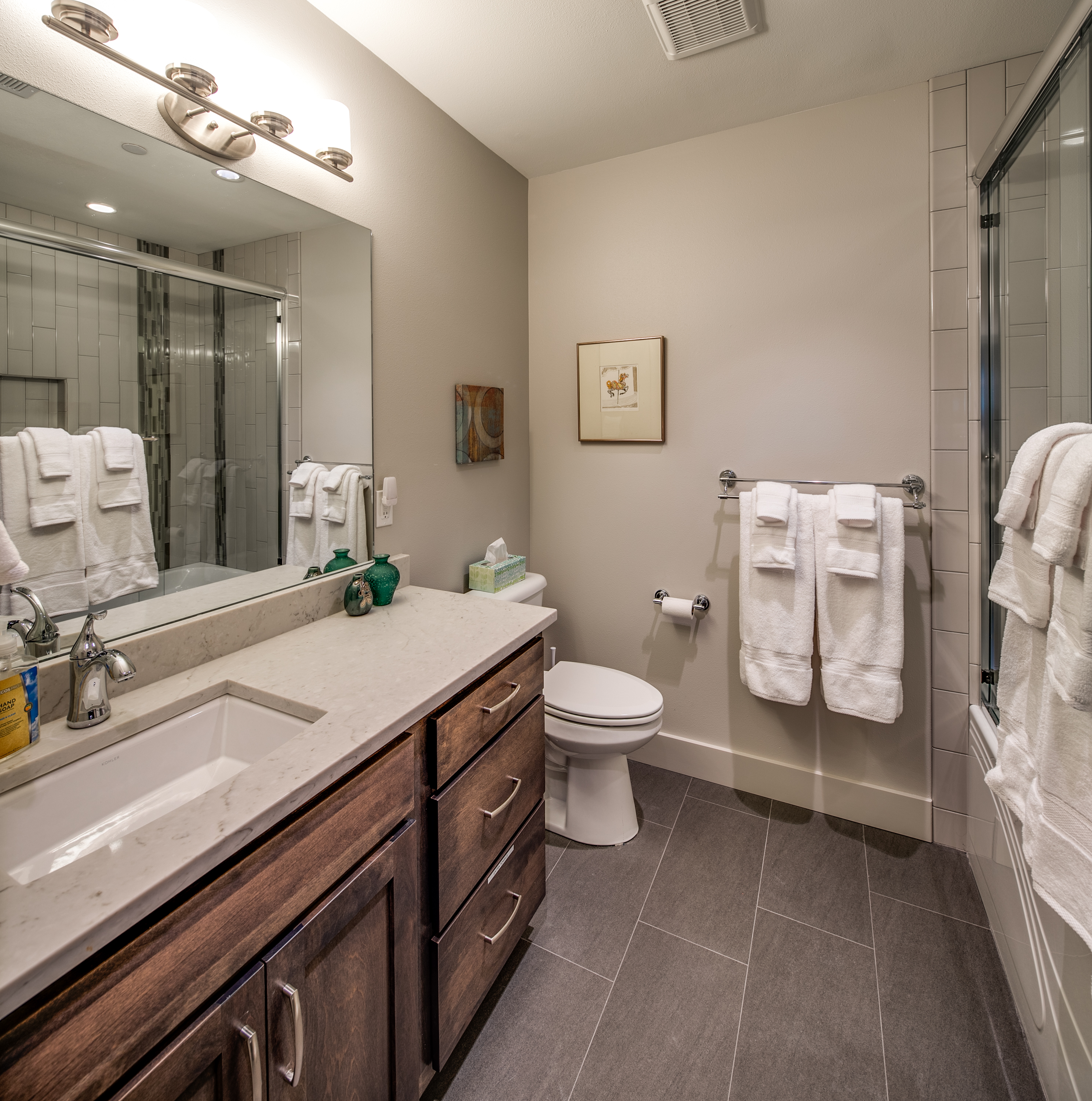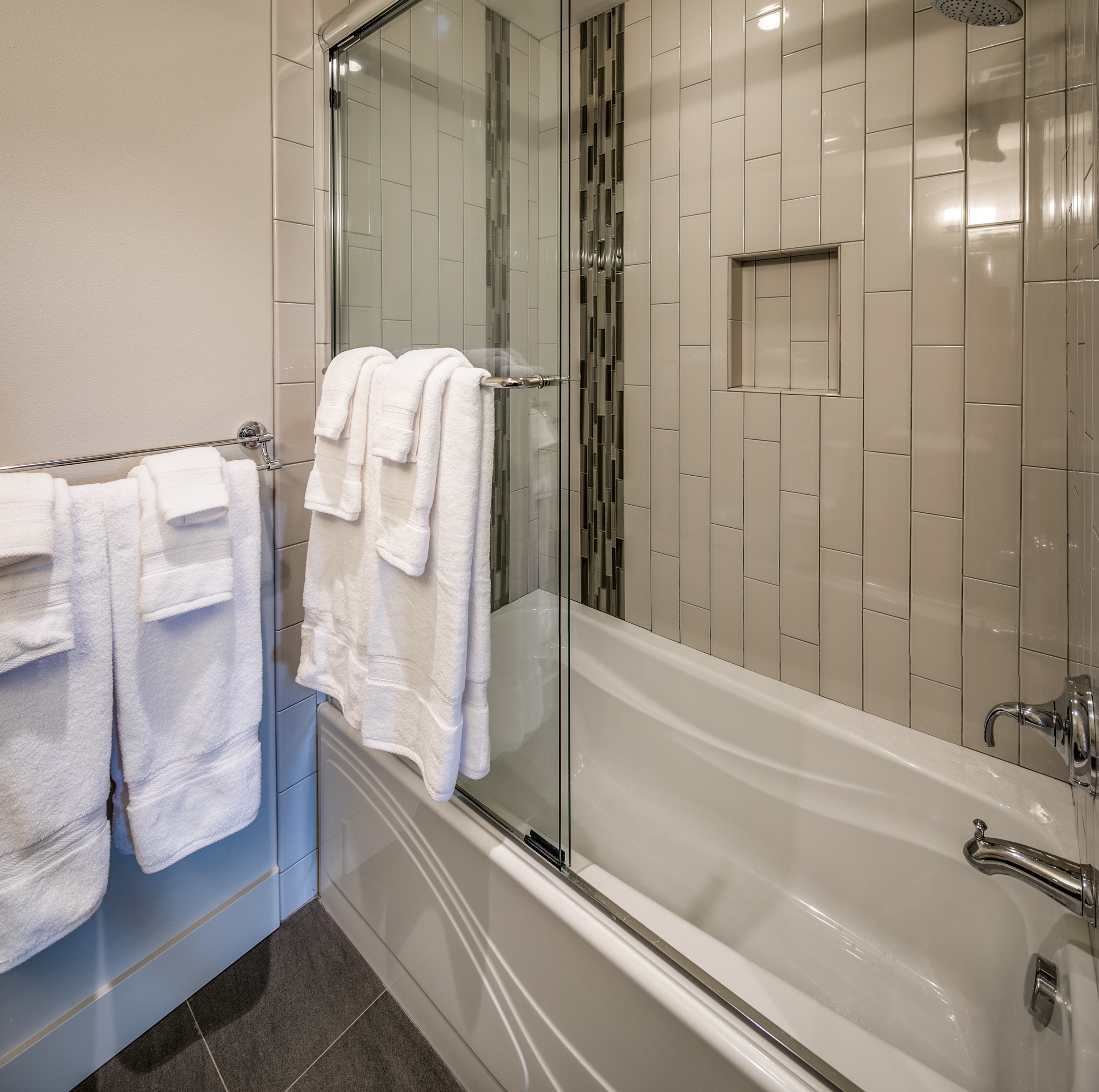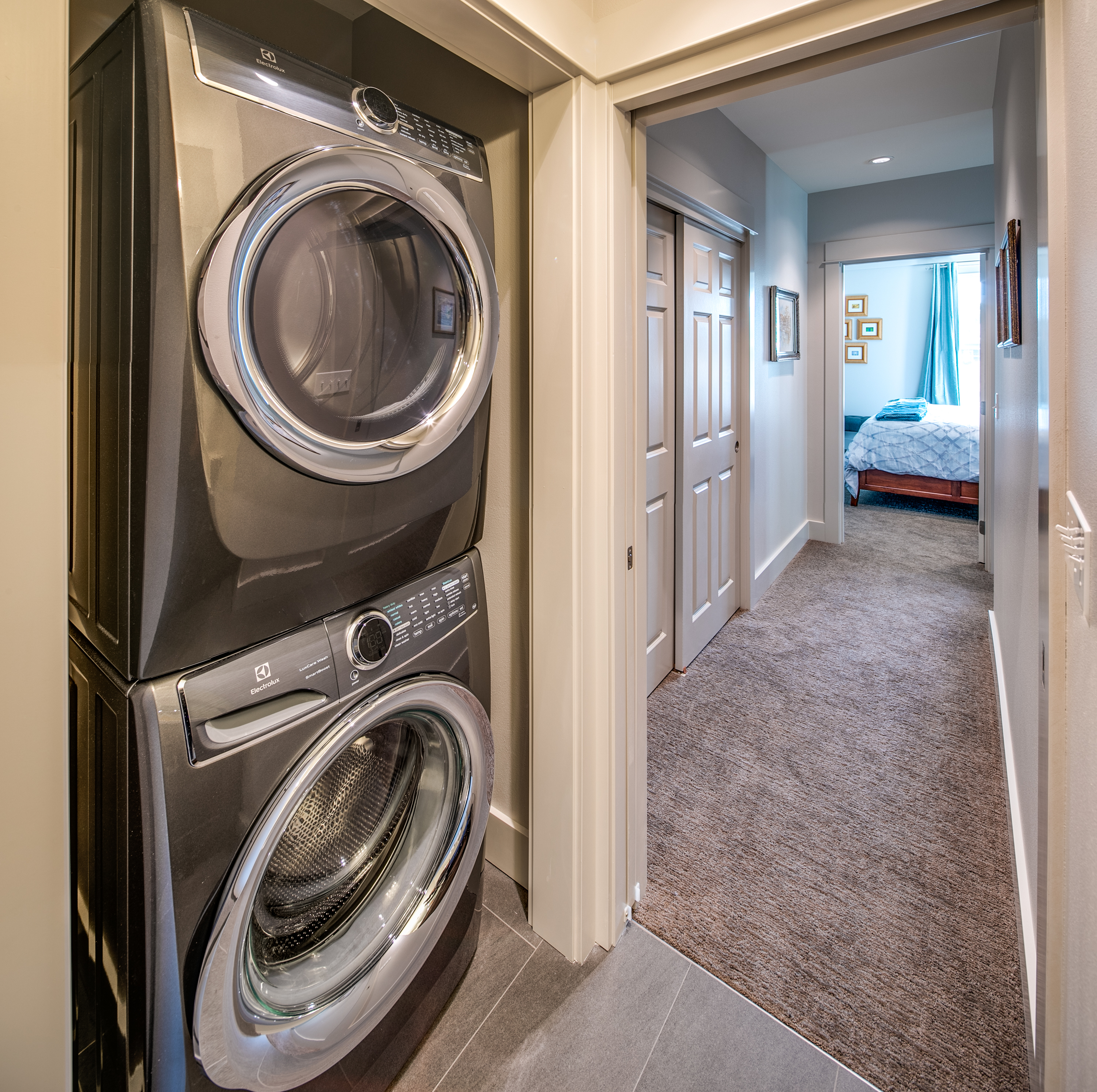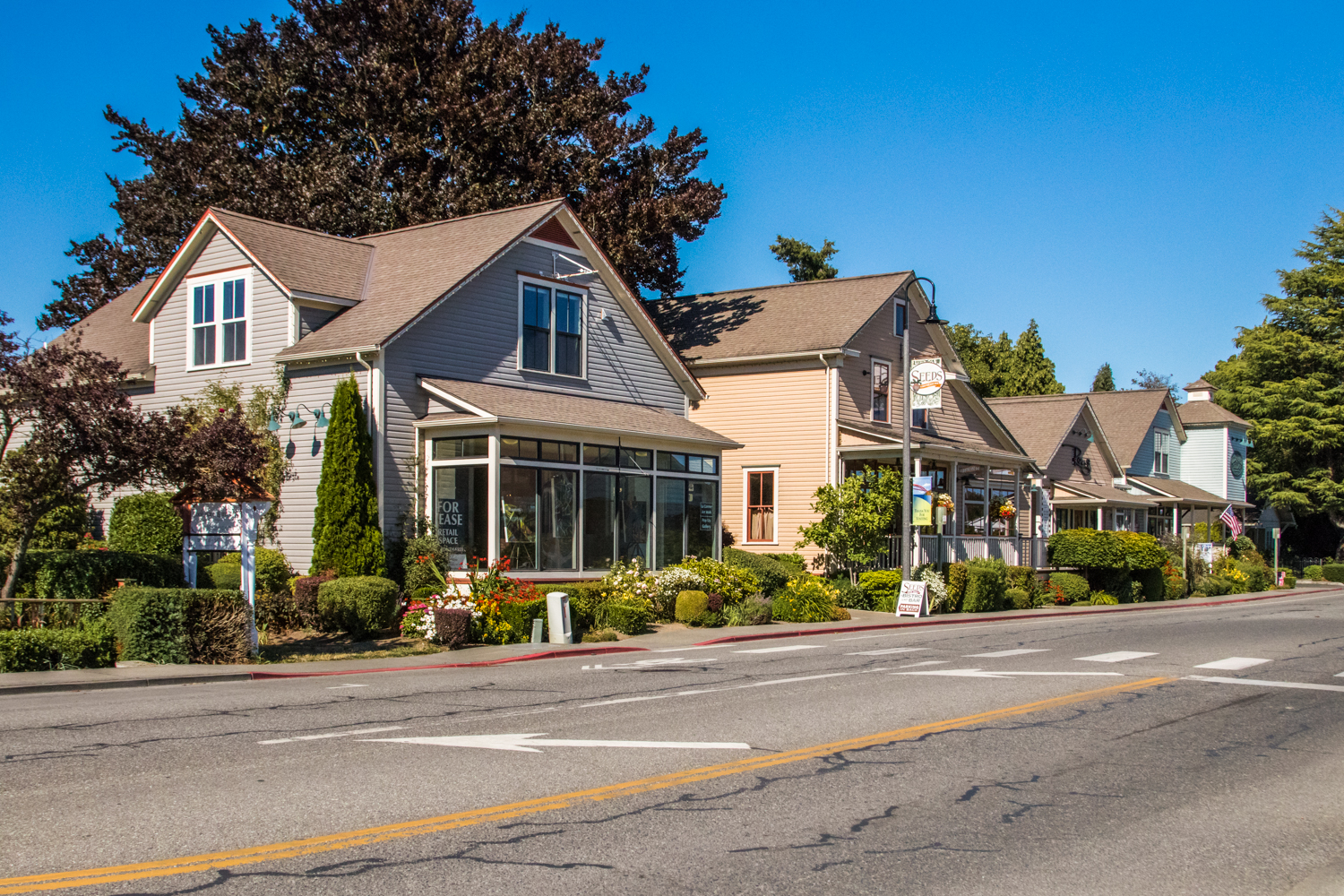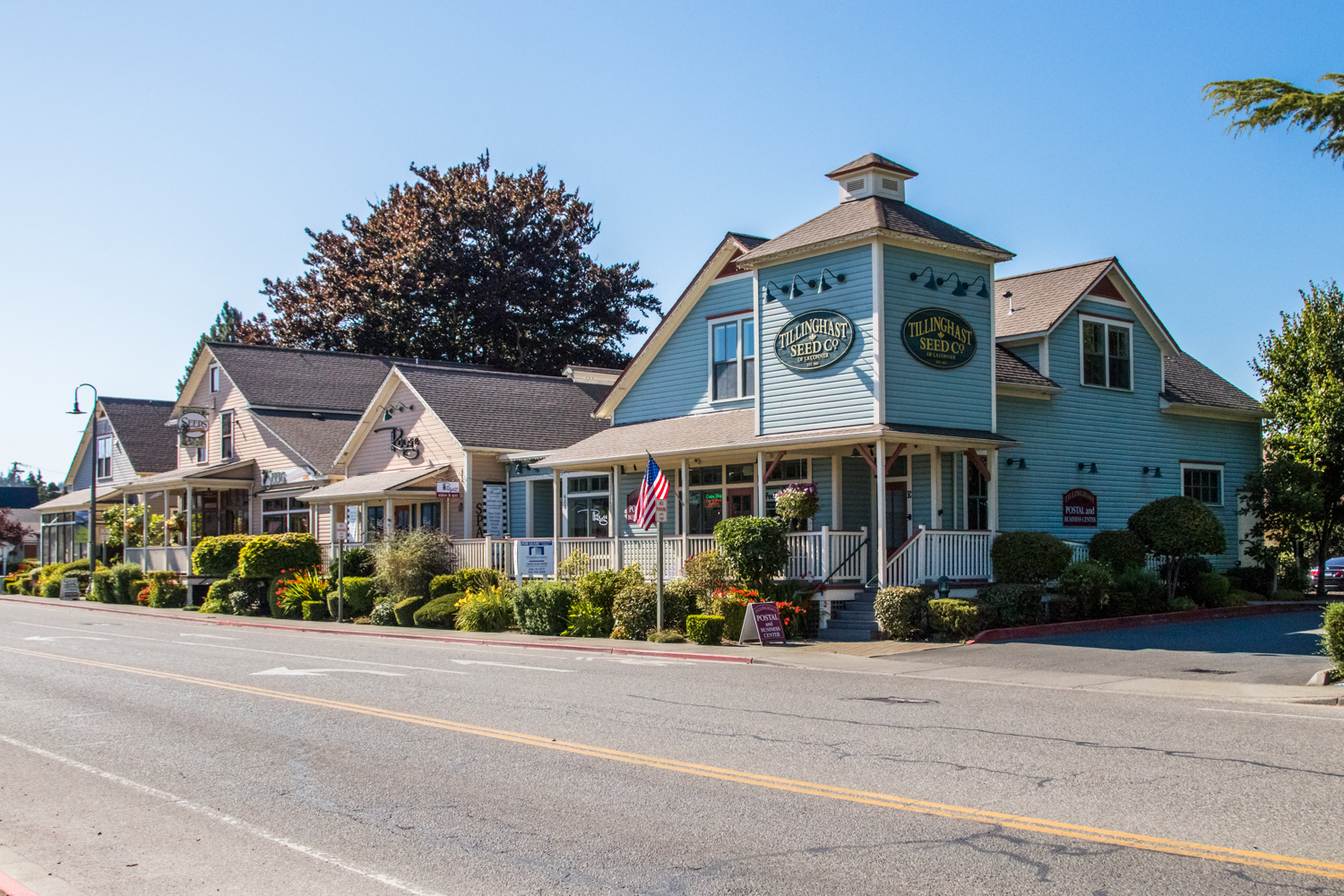 Availability
Key

| | | | | | | | |
| --- | --- | --- | --- | --- | --- | --- | --- |
| # | Night Available | # | Night Unavailable | # | Arrive Only | # | Depart Only |
November 2019
Su
Mo
Tu
We
Th
Fr
Sa

1




2




3




4




5




6




7




8




9




10




11




12




13




14




15




16




17




$165

/nt

18




$165

/nt

19




$165

/nt

20




$165

/nt

21




$165

/nt

22




$165

/nt

23




$165

/nt

24




$165

/nt

25




$165

/nt

26




$165

/nt

27




28




29




30



December 2019
Su
Mo
Tu
We
Th
Fr
Sa

1




$165

/nt

2




$165

/nt

3




$165

/nt

4




$165

/nt

5




$165

/nt

6




$165

/nt

7




$165

/nt

8




$165

/nt

9




$165

/nt

10




$165

/nt

11




$165

/nt

12




$165

/nt

13




$165

/nt

14




$165

/nt

15




$165

/nt

16




$165

/nt

17




$165

/nt

18




$165

/nt

19




$165

/nt

20




$165

/nt

21




$165

/nt

22




$165

/nt

23




$165

/nt

24




25




26




$165

/nt

27




$165

/nt

28




$165

/nt

29




$165

/nt

30




$165

/nt

31




$165

/nt
January 2020
Su
Mo
Tu
We
Th
Fr
Sa

1




$165

/nt

2




$165

/nt

3




$165

/nt

4




$165

/nt

5




$175

/nt

6




$175

/nt

7




$175

/nt

8




$175

/nt

9




$175

/nt

10




$165

/nt

11




$165

/nt

12




$175

/nt

13




$175

/nt

14




$175

/nt

15




$175

/nt

16




$175

/nt

17




$165

/nt

18




$165

/nt

19




$175

/nt

20




$175

/nt

21




$175

/nt

22




$175

/nt

23




$175

/nt

24




$165

/nt

25




$165

/nt

26




$175

/nt

27




$175

/nt

28




$175

/nt

29




$175

/nt

30




$175

/nt

31




$165

/nt
February 2020
Su
Mo
Tu
We
Th
Fr
Sa

1




$165

/nt

2




$165

/nt

3




$165

/nt

4




$165

/nt

5




$165

/nt

6




$165

/nt

7




$165

/nt

8




$165

/nt

9




$165

/nt

10




$165

/nt

11




$165

/nt

12




$165

/nt

13




$165

/nt

14




$165

/nt

15




$165

/nt

16




$165

/nt

17




$165

/nt

18




$165

/nt

19




$165

/nt

20




$165

/nt

21




$165

/nt

22




$165

/nt

23




$165

/nt

24




$165

/nt

25




$165

/nt

26




$165

/nt

27




$165

/nt

28




$165

/nt

29




$165

/nt
March 2020
Su
Mo
Tu
We
Th
Fr
Sa

1




$175

/nt

2




$175

/nt

3




$175

/nt

4




$175

/nt

5




$175

/nt

6




$165

/nt

7




$165

/nt

8




$175

/nt

9




$175

/nt

10




$175

/nt

11




$175

/nt

12




$175

/nt

13




$165

/nt

14




$165

/nt

15




$165

/nt

16




$165

/nt

17




$165

/nt

18




$165

/nt

19




$165

/nt

20




$165

/nt

21




$165

/nt

22




$165

/nt

23




$165

/nt

24




$165

/nt

25




$165

/nt

26




$165

/nt

27




$165

/nt

28




$165

/nt

29




$165

/nt

30




$165

/nt

31




$165

/nt
April 2020
Su
Mo
Tu
We
Th
Fr
Sa

1




$165

/nt

2




$165

/nt

3




$165

/nt

4




$165

/nt

5




$165

/nt

6




$165

/nt

7




$165

/nt

8




$165

/nt

9




$165

/nt

10




$165

/nt

11




$165

/nt

12




$165

/nt

13




$165

/nt

14




$165

/nt

15




$165

/nt

16




$165

/nt

17




$165

/nt

18




$165

/nt

19




$175

/nt

20




$175

/nt

21




$175

/nt

22




$175

/nt

23




$175

/nt

24




$165

/nt

25




$165

/nt

26




$165

/nt

27




$165

/nt

28




$165

/nt

29




$165

/nt

30




$165

/nt
May 2020
Su
Mo
Tu
We
Th
Fr
Sa

1




$175

/nt

2




$175

/nt

3




$175

/nt

4




$175

/nt

5




$175

/nt

6




$175

/nt

7




8




9




10




$175

/nt

11




$175

/nt

12




$175

/nt

13




$175

/nt

14




$175

/nt

15




$175

/nt

16




$175

/nt

17




$175

/nt

18




$175

/nt

19




$175

/nt

20




$175

/nt

21




$175

/nt

22




$175

/nt

23




$175

/nt

24




$175

/nt

25




$175

/nt

26




$175

/nt

27




$175

/nt

28




$175

/nt

29




$175

/nt

30




$175

/nt

31




$175

/nt
June 2020
Su
Mo
Tu
We
Th
Fr
Sa

1




$175

/nt

2




$175

/nt

3




$175

/nt

4




$175

/nt

5




$175

/nt

6




$175

/nt

7




$175

/nt

8




$175

/nt

9




$175

/nt

10




$175

/nt

11




$175

/nt

12




$175

/nt

13




$175

/nt

14




$175

/nt

15




$175

/nt

16




$175

/nt

17




$175

/nt

18




$175

/nt

19




$175

/nt

20




$175

/nt

21




$175

/nt

22




$175

/nt

23




$175

/nt

24




$175

/nt

25




$175

/nt

26




$175

/nt

27




$175

/nt

28




$175

/nt

29




$175

/nt

30




$175

/nt
July 2020
Su
Mo
Tu
We
Th
Fr
Sa

1




$175

/nt

2




$175

/nt

3




$175

/nt

4




$175

/nt

5




$175

/nt

6




$175

/nt

7




$175

/nt

8




$175

/nt

9




$175

/nt

10




$175

/nt

11




$175

/nt

12




$175

/nt

13




$175

/nt

14




$175

/nt

15




$175

/nt

16




$175

/nt

17




$175

/nt

18




$175

/nt

19




$175

/nt

20




$175

/nt

21




$175

/nt

22




$175

/nt

23




$175

/nt

24




$175

/nt

25




$175

/nt

26




$175

/nt

27




$175

/nt

28




$175

/nt

29




$175

/nt

30




$175

/nt

31




$175

/nt
August 2020
Su
Mo
Tu
We
Th
Fr
Sa

1




$175

/nt

2




$175

/nt

3




$175

/nt

4




$175

/nt

5




$175

/nt

6




$175

/nt

7




$175

/nt

8




$175

/nt

9




$175

/nt

10




$175

/nt

11




$175

/nt

12




$175

/nt

13




$175

/nt

14




$175

/nt

15




$175

/nt

16




$175

/nt

17




$175

/nt

18




$175

/nt

19




$175

/nt

20




$175

/nt

21




$175

/nt

22




$175

/nt

23




$175

/nt

24




$175

/nt

25




$175

/nt

26




$175

/nt

27




$175

/nt

28




$175

/nt

29




$175

/nt

30




$175

/nt

31




$175

/nt
September 2020
Su
Mo
Tu
We
Th
Fr
Sa

1




$175

/nt

2




$165

/nt

3




$165

/nt

4




$165

/nt

5




$165

/nt

6




$165

/nt

7




$165

/nt

8




$165

/nt

9




$165

/nt

10




$165

/nt

11




$165

/nt

12




$165

/nt

13




$165

/nt

14




$165

/nt

15




$165

/nt

16




$165

/nt

17




$165

/nt

18




$165

/nt

19




$165

/nt

20




$165

/nt

21




$165

/nt

22




$165

/nt

23




$165

/nt

24




$165

/nt

25




$165

/nt

26




$165

/nt

27




$165

/nt

28




$165

/nt

29




$165

/nt

30




$165

/nt
October 2020
Su
Mo
Tu
We
Th
Fr
Sa

1




$165

/nt

2




$165

/nt

3




$165

/nt

4




$165

/nt

5




$165

/nt

6




$165

/nt

7




$165

/nt

8




$165

/nt

9




$165

/nt

10




$165

/nt

11




$165

/nt

12




$165

/nt

13




$165

/nt

14




$165

/nt

15




$165

/nt

16




$165

/nt

17




$165

/nt

18




$165

/nt

19




$165

/nt

20




$165

/nt

21




$165

/nt

22




$165

/nt

23




$165

/nt

24




$165

/nt

25




$165

/nt

26




$165

/nt

27




$165

/nt

28




$165

/nt

29




$165

/nt

30




$165

/nt

31




$165

/nt